Layered Online reader Vicky has always had a love-hate relationship with her riotous curls. Since moving to London she's struggled to find a stylist she trusts who could give her a cut to show off her curl shape, while still being flattering and manageable. Can Jones & Payne in Shoreditch be the match Vicky has been looking for?
When it comes to salons I have always been a commitment-phobe, a serial salon swapper. I've tried for years to find The One but I just can't seem to settle down. As a curly girl there's a lot at stake with each cut. I've never quite felt like I've been understood or, beyond that, inspired, and as a result I've had the same cautiously safe hair cut for about ten years.
My quest for The One has seen me trekking across industrial estates to find a salon vaguely recommended by someone's sister's cousin for curls, and spending hours falling down a rabbit hole of conflicting reviews online. Could Salon Solved It help me find a keeper at last?
Jones & Payne in Shoreditch has the luxe feel of a city salon (they shout about their mimosas from a gilt frame) with a bit of Shoreditch grit from the exposed brick walls. It immediately welcoming, most especially because I spy other curly-headed folks in chairs – always a good sign.
In the consultation with Nicole I made the usual confession: it's been six months since I had a cut and the ends are gross, the shape is flat and lifeless, but I like the length.
Can we fix it without losing too much?
Nicole confidently assessed my hair for the amount of bounce in the curls, the damage and the lift it needed. She explained that she would put the shape in while the hair was wet, then dry it before doing more freestyle cutting for the shape. What a relief! A lot of my salon fear comes from bad experiences, often involving a misjudgement of how far my hair will spring up. It usually leaves me either with layers that land like a mullet, or with a '90s-era Andie MacDowell triangle bob situation (no shade Andie, but it's a tough look to pull off). So knowing that my hair would be dry for the finishing touches made me relax straight away.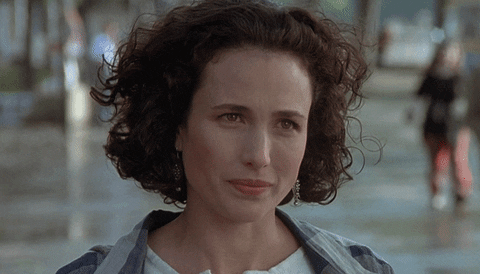 After the initial cut my confidence was growing still. As Nicole and I chatted about our curly hair experiences and work and life I had a moment of realising I was actually… relaxed, just as Nicole started to twist out my hair.
Twist outs have not always been my friend – in the wrong hands there can be something poodle-y about the long, uniform ringlets they produce. But Nicole read my mind, saying "this is the bit where you look like a Victorian doll" before breaking the curls up. Relief!
The next part was like magic, frankly, as Nicole meticulously freestyle cut the layers into my dry hair. It was like watching a sculptor – correcting, assessing, stepping back and making the tiniest changes.
I loved watching the shape come together too. Even though it was shorter than I expected, by this point I had completely given my trust to Nicole and it paid off. My hair had a different shape for the first time in ten years, but I still felt like me. I loved that it had lift and movement again, yet still looked like long hair.
Time will tell if I've finally found The One in Jones & Payne, but after 10 years I finally feel like I might be ready to settle down…