Looking for blonde inspiration? From Bardot to Madonna, over the decades there has been plenty of iconic celebrity blondes. Here's what to know and what to ask for in the salon
When visiting the salon for a colour fresh, it's often a challenge on deciding what to use as inspiration when chatting to your colourist. For many of us, it's those iconic celebrity blondes from decades gone by which we would love to channel. Whether it's Marilyn Monroe's platinum blonde or the grungier tones of Kate Moss during the Nineties, their memorable blondes are still influencing looks today. So if you're unsure how to make your own blonde ambitions come true, we've rounded up the need-to-know techniques and must have products for your next salon visit.
The Fifties – Marilyn Monroe
While Jean Harlow kickstarted the bottle blonde trend (and paid the ultimate price for it – read all about such hair history here), the blonde bombshell that truly exploded the trend for lighter, brighter locks was, of course, Marilyn Monroe. Naturally a curly brunette, Marilyn took the advice of her model agent to go blonder to secure more jobs. She slowly took it blonder, and as her hair lightened, her popularity rose.
By the time she hit the big time with films such as Gentlemen Prefer Blondes, her hair had been stripped of pigment, lightened to a blinding platinum blonde – or, as she famously described it, "pillow-case white". For the rest of her life, she would have bleach and a secret Sparkling Silver formula toner every three weeks. Post-World War Two, this high maintenance, bright blonde was seen as the ultimate word in glamour, the technicolor illustration of the good times in Eisenhower's booming America.
What to ask for: For the full Marilyn effect, you'll want a scalp bleach with global colour and a toner to finish. The bleach will lift the colour, while the toner will take out the yellow and ensure you get the precise shade of platinum you're after. And much like Miss Monroe, you'll need to commit to regular root touch-ups for a super clean finish, probably every three weeks. Alternatively, between root services, you could opt for a toner to get the gloss at glamour girl levels while the roots are given a little breather.
Must have product: Fudge Professional Everyday Clean Blonde Damage Rewind Violet Toning Shampoo and conditioner instantly erases yellow tones and its Opti-PLEX technology promises 95 per cent stronger hair, which will help deliver some much-needed TLC to bleached hair.
The Sixties – Brigette Bardot
In the wake of the bombshells of the Fifties, a new breed of blonde emerged; this time, with a French screen siren at the helm. Brigette Bardot was the quintessential sixties sex-kitten – smouldering while sporting a softer, more laid-back look than her predecessors, and establishing an aesthetic which went on to dominate the decade.

Her kohl-lined eyes peeked out from beneath a brow-grazing fringe, and in the place of carefully coiffed curls, her buttery blonde hair tumbled in piecey waves about her shoulders or was swept into a finger-combed updo piled at her crown. A million miles from the boyish crop of fellow 60s icon Twiggy, the result was a sophisticated blend of coy ingenue and alluring femme fatale; a chic bottle blonde that side-stepped brash but still oozed confidence, earning it a place on millions of hair goals moodboards to this day.
What to ask for: Foil highlights – either a half or full head depending on the depth of your natural colour, with a root smudge (Brigette pioneered the dark root look, which helped to give her gently backcombed lengths more depth). Be sure to ask for diffused biscuit and honey toned slices to add a little dimension and to create that sixties soft-focus finish.

Must have product: Wella Professional EIMI Sugar Lift texture spray, to add bouffant-esque oomph to updos and to insure when left down, your hair retains that tousled, 'just-stepped-off-a-beach' vibe.
The Seventies – Agnetha from ABBA
While Farrah Fawcett and her iconic flicks probably take the cake when it comes to the style we associate with the '70s, the clean Scandi blonde of ABBA's Agnetha Fältskog is what comes to mind for colour. Capturing that feeling of everlasting sunlight that lingers 'til the early hours of summer, this pure, bright blonde helped to ensure that all eyes were on Agnetha and making her blue eyes pop.
What to ask for: Scandi Blonde. Celebrated colourist Christel Barron-Hough and her team at Stil Salon in London are known for their mastery over these chic shades. "The Scandi Blonde colour is perfectly balanced in tone, making it super bright and on the cooler side of blondes but not heavy in ash or gold, just perfectly in the middle," is the description of the look.
Must have product: A lightweight oil for glass-like shine and to keep hair that has had to be lifted several levels in sleek condition. Try Olaplex No.7 Bonding Oil, highly concentrated and reparative yet weightless in the hair.
The Eighties – Madonna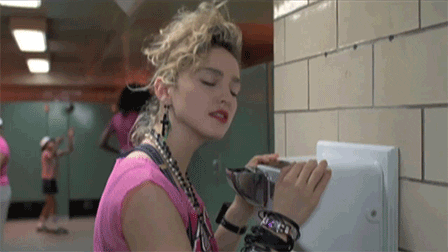 Ms Ciccone paid homage to OG Blonde Marilyn Monroe in her Material Girl video, but Madonna's take on the lighter life when she hit big in the mid '80s was a distinctly dirtier, lived-in blonde. As a dancer on New York's Lower East Side, this was a perfect reflection of the grittier edge the city was famous for pre-Giuliani, and her NYC adventures in Desperately Seeking Susan served to cement this vibe, all wrapped back with a tied scarf. As the decade progressed, her blonde got blonder: a bit brassy during True Blue, a bit retro for Shanghai Surprise until she went full on bleach for the iconic Blonde Ambition tour as the '90s arrived. But her original dirty blonde was the look that launched millions of global copycats that decade, all sporting fingerless gloves and Boy Toy belts in her honour.
What to ask for: Part of this dirtier shade might have been the realities of lifting Madonna's dark, Italian locks – you might need to go slowly if you're starting on very dark hair. A half-head of honey-toned foil highlights over a naturally darker base will nail that lived-in look with heaps of contrast, and you won't need to worry about staying on top of your regrowth as roots will add an extra edge. If you want it a bit blonder, talk to your colourist about some painted sections on the lengths for extra dimension.
Must have product: You might want a dirty-looking blonde, but not an actual dirty blonde. Reach for a dry shampoo to refresh and add a bit of body and grit – JOICO Instant Refresh is spot on.
The Nineties – Kate Moss
The Nineties spawned so many hair looks that remain part of the cultural lexicon today that this was near impossible to narrow down! But when we really looked at it, there could only be one. Over in the US, Jennifer Aniston's highlights and game-changing cut were making waves – as was Pamela Anderson's beach-blonde barnet in Baywatch, soon to be reimagined by Lily James in the upcoming Hulu show Pam & Tommy – but in the UK a new queen was rising.
Kate Moss is one of THE most iconic blondes of the past three decades, but her breakthrough in the Nineties saw her sporting a much more muted shade than we now think of. She was just 14 when discovered and 16 when she shot her iconic Calvin Klein adverts with Marky Mark. Hers is the blonde of newly grown adults, the remnants of baby-blonde lingering to catch the light and wholly natural, effortless and real.
What to ask for: A root smudge and babylights. The dimension of the darker roots and light-catching babylights keep the look from edging into more obvious and eye-catching. Remember the aim is a dimensional, darkened blonde that looks entirely natural and youthful.
Must-have product: Keep ends soft and youthful, full of hydration and in excellent condition with a restorative mask. weDo/ Professional have a trio of excellent hair masks to restore and repair lengths, choose from Light & Soft, Moisture & Shine or Rich & Repair.