From zig-ah-zig-ahhhing to shouts of Girl Power, Spice Girls fever is spiking once again, 25 years after Ginger, Posh, Baby, Scary and Sporty first crash landed into pop culture. Turn to TikTok and Instagram, and you'll see that more than a few beauty trends can be traced back to those fabulous five from the mid-90s. Layered Online squeezed back into its union flag tea towel dress and platform boots to investigate…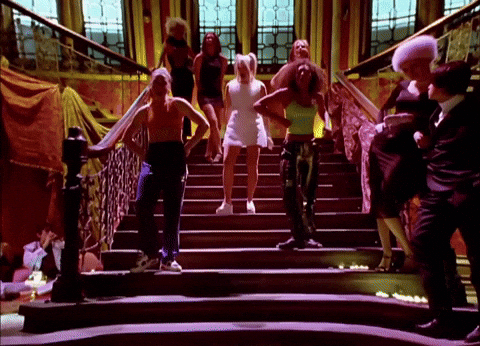 The OG Spice Girl stylists
Paul Percival – the Percy at Percy & Reed and a favourite of musicians over the past 25 years – got his start working in the music industry with the Spice Girls. "It was the most pivotal moment of my life, the summer of '96, it was brilliant," he grins (he also met his wife!). "Pop came back, and rather than being formulaic, here were the Spice Girls being exaggerated versions of their own personalities. No one could ignore them!" 
What does he remember about getting started with the band? "The brief at the beginning was that while the hair had to be 'done', it had to be believable, the look couldn't be too polished," he recalls. And he's noticed those '90s references increasingly being whipped out by clients in the salon, who come armed with Pinterest boards. "Geri's hair was so in your face, so unapologetic – I inherited that, she came ready-Geri'd and it was always bold. And we're seeing that halo of stripes now again in the salon, it's a massive thing.
"Mel B had lots of highlighted sections to exaggerate the individual curls more. She probably had the best hair to work with, just beautiful," he smiles. "And now clients are really embracing their texture rather than fighting it, and products are so much better so – think Olaplex and great oils – that it makes it easier." 
What about the polish of Posh? "We're definitely going to see a return to hair cuts, like Posh Spice's bob," he nods. "Everywhere is wavy balayage at the moment, I want to see something else, and I think we'll see that. We'll make a move to strong colours and strong cuts."
Ben Cooke, co-founder of Chelsea's Lockonego salon, met the girls after styling Mel C for a Cosmopolitan cover in the late '90s, and was the stylist behind Victoria's changing look in the early naughts, most famous perhaps being the Pob.
"It was very, very long, that real WAG kind of vibe but we'd been talking about doing something and she was ready for a change. Literally one Sunday morning she was like: 'what you're doing today? I think today's the day,'" he laughs. "She met me at Lockonego, we took out the last bits of her extensions and it just… it just made sense. That kind of rough shape. It was almost a classic graduated bob shape, but I didn't put a single straight line into it. That's the difference. It was on the front page of The Sun, just this mad, mad moment. I've always thought she looks amazing with short hair."
Earn your stripes
According to Headmasters Artistic Team member, Sian Quinn, the most dramatic trend coming through from the Spice Girls era is the "money piece". "This is when a section at the front is bleached solid, then toned to a clean blonde or a fun pop of colour is added," she explains.
"It's exciting as a colourist to have clients coming in asking for such a statement piece, it's gradually got bigger and bolder. 90's colour trends have been looked back on by stylists as garish, but these bold colours can be achieved while keeping condition and shine intact thanks to superior bleaches and treatments like Olaplex, keeping it looking luxe and expensive."
Roar Hair and Beauty's Brian Leo McCallum admits that the two-tone colour that Ginger Spice was known for was always a controversial trend – "you either loved it or hated it," he laughs, "and clients today most certainly love it, it's likely one of our most requested colour trends in the salon. Unlike Ginger, clients also ask for a lighter pieces to be scattered throughout the rest of their hair. That's the 2021 update on this 90's trend.  
"Revamped '90s chunky highlights is the hair trend taking over social media… and now also our salons!" jokes Jessica Querée, senior technician at Trevor Sorbie Covent Garden, who points to her colleague Josie's love of all things Geri. "It only takes a second to scroll on Instagram to find a modern take on this retro style, and see on celebs such as Beyoncé, Dua Lipa and Kylie Jenner. These modern celebrity looks are frequently referenced by our guests, as inspiration when requesting face framing colouring."
Solomon Christian, who you'll find at Peckham Palms weekly as well as in Basingstoke, puts much of it down to TikTok trends. "Clients are resonating with the hairstyles and fashions of the Spice Girls and the '90s, as during lockdown our social interaction was reduced and we leaned heavily on social media. Reminiscing on times where we felt freer and more liberated – for instance the Girl Power era of the Spice Girls – fuelled a social media nostalgia canon!" 
As a hairdresser that also specialises in Afro and curly hair, he's seeing more curly clients requesting pops of colour in their curls just like Mel B, to create dimensions and definition. "It's so great for clients wanting to shake up their style… myself included," he grins. "This is paired with many clients going natural, breaking down negative connotations that frizz, curls and gravity-defying volume is undesirable or unruly! Through the early Spice Girls era, Mel B was always seen wearing her hair natural which wasn't often seen at the time, so will always be timeless and radical!"
"Mel B's look was ahead of its time, this was an era of relaxing and straightening," recalls Not Another Salon's Sophia Hilton. "To have a woman rocking her natural look was something we hadn't seen a lot of. I don't think we realised at the time how special that was. We're now seeing such a great pride in Afro hair that its fab to reflect on how powerful that was of her."
"Because they were all so individual – if you ask anyone, everyone's always got their favourite Spice Girl – people will always take something from that. So maybe it's just that general attitude, because that whole vibe hasn't been seen for a few years, the whole Girl Power vibe," explains Ben Cooke. "They had this energy when you were with them that was just infectious. I've got amazing memories. And whenever I see them now – I saw Emma funnily enough, just before lockdown – it's always so nice to see them. I feel quite privileged to have been part of it."